Announcing Survey Results and Selected Winners!
Last month we released a poll requesting player feedback, and we're happy to report that the responses were plentiful! Today we're going to share some of the general consensuses gathered from the survey, as well as announce the participating survey players who were randomly selected to receive prizes. A big thank you goes out to everyone who took the time to send us your feedback in an effort to make Munzee the best player experience as possible! We're excited to share with you what fellow players had to say about gameplay!
Survey Winners
Before we get into the survey feedback, let's first announce the winners! Though players were able to submit the survey anonymously, those who entered their usernames were all submitted to a randomized prize drawing. We're happy to announce that the following 10 players were all randomly selected to be awarded 2 Virtuals, 2 virtual colors, 1 virtual Joystick, and 1 Blast Cap! The lucky winners are:
ACCLanMan

gingercurlz

janzattic

jurikvandspol

madewell

OldSchoolSkater

SolWalk74

ufrie

xCrooksy

TX_Diva
Congratulations to these 10 players for being randomly selected! Your prizes have been added to your accounts!
Survey Feedback
The results are in! While we won't be revealing all of our player feedback for the sake of brevity, we are excited to share several key things we learned from player responses. Due to a very large sample size, the following results have terrific projectability and a very low margin of error of only 1-2%. That means we are thrilled to place a confidence level of 95% on the following results.
Favorite Part of Gameplay
We asked players to reveal their favorite part of Munzee gameplay, and it turns out that the majority of players (66.6%) prefer both physical and virtual gameplay equally, striking a comfortable balance. 21.3% of players preferred strictly virtual play, while only 12.1% enjoyed just physical play. It appears that many players enjoy mastering the many aspects of Munzee. 
Rate of Release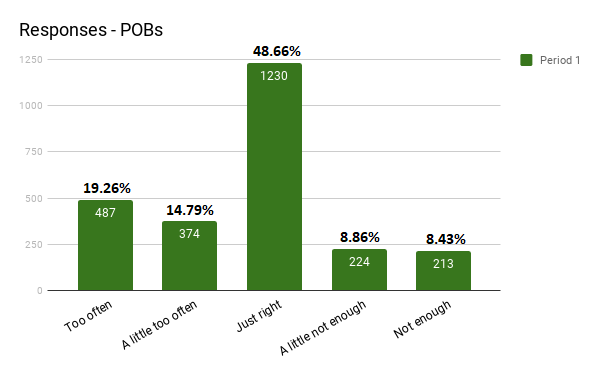 With different munzees released at a fairly consistent rate, we decided to see if players were overwhelmed or underwhelmed by any release rates.  It turns out that players reported the rate of release being "just right" for new Munzee Owned Bouncers (52.69%), Player Owned Bouncers (48.66%), and permanent Munzee types (54.03%). These statistics reveal that the majority of players are quite pleased with current gameplay release rates. 
Biggest Benefit of Munzee 
Here at Munzee, we're all about playing your way, which led us to ask a very important question that yielded some pleasant results: what do you think is the biggest benefit of playing Munzee? Turns out that the most players enjoy keeping active (45.3%), followed by exploring new areas (27.6%), collecting different game pieces (10.3%), and meeting new people/players (9.7%).
Thanks again to all players who took the time to respond to the survey and provide feedback! We love hearing your ideas, suggestions, and feedback. We'll keep all of these results in mind for future expansion and releases! 
Munzee on!