Holiday Card Collectors Club Tier 3 Day 1: Cyborg Santa
Can you believe it's already been two weeks since we first revealed the Cyborg Santa as part of Tier 3 of our Holiday Card Collectors Club? We bet you're curious to find out all his features and functions, so without further ado…
Cyborg Santa Details
As previously stated, the Cyborg Santa is a temporary POB. It will deploy on your account when you capture your holiday mailbox on December 1. The mailbox must be capped on December 1st 00:01-23:59 MHQ time to deploy Santa. It will bounce to both physical and virtual munzees, specifically: Greenies, Earth Mysteries, Ice Mysteries, all Virtual Colors, all three stages of the Farm Set – Family Evolution, Treehouses, and Skylands every 5 hours or when capped. It will stay on the map until 23:59 MHQ on December 31, when it will be automatically archived on your account. If you've ever deployed a Butterfly or Frog Evolution munzee, these will behave similarly with a few exceptions.
Points
Deploy: 750
Capture: 300
CapOn: 150
Similar to the Modern Myths, when the Cyborg Santa is captured 1 NEW Pixel Present munzee will be scattered nearby!
The Pixel Present will only be visible to the player who capped the Cyborg Santa, and will be deployed on the Cyborg Santa owner's account. This means that unlike Feathers, there are CapOn points for the owner!
The rewards for Pixel Presents are as follows:
Like the Cybersaurus Rex, the Cyborg Santa will be available for multi-capture. That means players can capture a Cyborg Santa on their own munzees, any previously captured munzees, and more than once if the same Cyborg Santa visits you. However, Cyborg Santas are non-blastable. They will be attracted to Munzee Magnets and Virtual Munzee Magnets. You can access Cyborg Santa by turning on your "All Limited Edition Specials" and "All Expiring Specials" filters.
Badges
Deploying Cyborg Santa will earn you the following badge: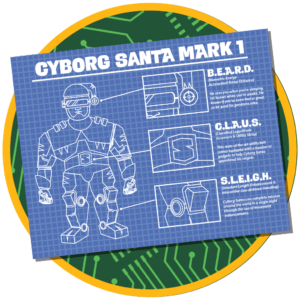 There is also a line of 6 Christmas Combat Capture badges that you can earn for Cyborg Santa, Cybersaurus Rex, and any other future HCCC tPOB (*hint hint*) captures! The first in this line will appear as follows:
We hope you enjoy unwrapping Day 1 of the Holiday Card Collectors Club! Make sure to cap your Holiday Mailbox each day so you don't miss out!
Otherwise, if you still haven't joined the club yet and would like to do so now, click HERE! If you purchase a Tier 3 membership TODAY you can still get a Cyborg Santa as long as you deploy and cap your Holiday Mailbox before 23:59 MHQ time on December 1st.
Munzee on!