May 2020 GOTM Winners + June POTM Requirements!
This month, we took a break from Social DistanZEEing events as we focused our development time on some exciting new things we have planned. However, we made sure that May still had a lot of new things to interact with! We celebrated May Day in the Munzee world by releasing World Laughter Day specials and three new Baby Animals in Munzpaks! New Places Munzees followed the next week, which included the much awaited Beach Places munzee! The week after brought Smaragd (we can kind of pronounce it now, can you?) and Skyland, which has been a popular destination for many players! And just last week, Hometown Heroes specials started appearing on the map in batches, along with new variants for the Cyclops and Nymph! Last but not least, we also released a few new Greeting Card munzees!
We are now happy to announce the winners of the May Garden of the Month (GOTM), give one last reminder for May Player of the Month (POTM), and announce the criteria for June POTM! The badges for May GOTM and POTM will be awarded in early June, but we couldn't wait to share the winners we've chosen!
May GOTM
When choosing May GOTM, we couldn't resist choosing another flower-themed garden — after all, one of the new Greeting Card munzees is called "May Flowers"! As for the other winner — let's just say it relates to one of the aforementioned "exciting new things we have planned." Remember that all winning GOTM organizers and all players who deployed in the winning gardens will be awarded special badges for their contribution to growing the map. This month we're happy to award the Flower at Fort Monostor, designed by Laczy76, and MOA UNICORN, designed by geomatrix, as our winning May GOTM! The gardens will appear as follows:
Flower at Fort Monostor by Laczy76 in Komárom, Hungary
Good things come in small packages, and this garden is definitely one of them! A nice compact size to hand-cap if you're visiting the Fort Monostor museum!
MOA UNICORN by geomatrix in Bloomington, MN
This is just one of geomatrix's gardens that highlights the new square pin design we adopted with the release of Munzee 4.0! He's also made a garden for the Yeti and Mermaid! You can see these designs and others he's created  at this spreadsheet: LINK
All players who deployed in the respective winning gardens will receive the following special badges:
Rules for GOTM nominations:
Garden must feature non-licensed character designs.
The garden must feature a Garden Places Pin.
The garden must be built using a publicly available spreadsheet which we will ask to be locked after being 100% deployed.
We're asking for ongoing nominations and we will release the winners throughout the year.
Send your nomination for GOTM to iloveyou@munzee.com! Keep in mind that we take all former nominations into consideration for upcoming months. Just be sure your garden follows the nomination rules in order to be considered eligible!
If you need help deploying in a Virtual Garden, you can check out this step-by-step tutorial that will making deploying in a garden easy no matter how long you've been playing. To fill in the gardens, make sure to stock up on Virtuals and Color Credits from the Freeze Tag Online Store.
May POTM
May's POTM called for nominations for players you've sent a Greeting Card munzee to. We wanted to help spotlight these special pen pals, who are crucial to staying sane during these difficult times! There's still a little bit of time left to send in nominations, so if there's anyone who fits this criteria, please fill out the Google Form at https://forms.gle/dqEHrv29yiK2YSnJ6
Congratulations to all the players who were nominated! You can expect to see the badge in early June. If you were not nominated, maybe this coming month's POTM will work out better for you. Keep reading to find out!
Thank you for spreading friendship and love across the globe with Greeting Card munzees! We were hoping they would help players feel more connected since Munzee friends are perhaps the most important part of the game!
June POTM Requirements
For June's POTM, we want to see at least 1 Places Munzee capture for each day in the month. Since the range on these munzees is much larger than most other types, we thought this wouldn't be too tough to achieve — anyway, they're probably already part of your routine!
Working towards this requirement will also contribute progress towards Places Streak Badges, so if you haven't earned those yet, maybe this is the month to do it!
As in the previous months, this unique POTM badge is eligible for any player to earn regardless of previous wins. The badge will appear as follows: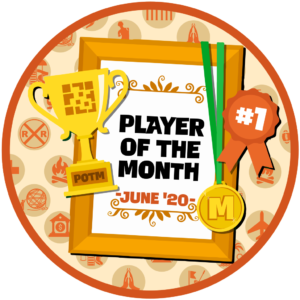 We hope you're excited for what June has in store!
Munzee on!