UnBirthday Sale!
The party's not over yet! We've got 2 NEW skins, a NEW Myth, a HUGE Greeting Card pack, and much much more, so read on to find out about our new guests and all the deals you can get!
Sale Details
Make sure to plan ahead and snag any deals before the sale ends on Monday, July 25th at 12:00 MHQ. Everything on sale can be found in this collection once it goes live: https://store.freezetag.com/collections/wonder11and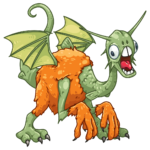 Bonus Garden Flamingo – $6

An extra Garden Flamingo available for purchase, if you'd like to show off ALL your unique Garden Flamingo skins at once!
Limit 1 per player
Bouncers Are Back

If you missed out on any Mythologicals or Pouch Creatures throughout the year, they've all bounced back for a bit and are available to purchase!
Faun
Banshee
Hades
Zeus
Vesi
Koobas
Teemant
Rubiin
King and Queen of Hearts Skins
If you don't already own the base Myth, but are still interested in using this skin, you can shop the Faun and Banshee HERE! Keep in mind that the base Myth will also need to be upgraded in order to use the skin. If you haven't upgraded your base Myth yet, you can purchase a Bouncer Upgrade Credit.
King of Hearts Faun

Queen of Hearts Banshee

Landing Pads
Landing Pads

Greenies
Red-Colored Virtuals*
For more information on Skins, you can check out our Help Guide articles HERE and HERE.
NEW Jabberwock Myth Details
Like the other Mythological Munzees, the Jabberwock is a permanent POB. It's been a while since we last released one of these — Zeus was the most recent one, finishing the line of Modern Myths. To repeat what was mentioned above — the Jabberwock is the start of a NEW Storyland line of Myths, so expect to see more creative creatures in the future!
Jabberwock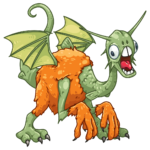 Points
Deploy: 250
Capture: 200
CapOn: 100
Landing Pads
You can find these cacophonous chimeras flying to the landing pads above every 12 hours or when captured.
Jabberwocks will be available for multi-capture. That means players can capture a Jabberwock on their own munzees, any previously captured munzees, and more than once if the same Jabberwock visits you. Jabberwocks are non-blastable. They will be attracted to both Physical Magnets and Virtual Magnets. You can access them by turning on your "All Expiring Specials" filter.
When a Jabberwock is captured, it will scatter up to 3 Vorpal Swords.
Vorpal Sword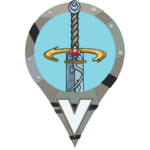 Points
These scatters will be visible to any player and will be deployed on the Jabberwock owner's account. This means that unlike Air Mystery Feathers/Boulders, there are CapOn points for the owner! They expire after 120 minutes and have a capture radius of 300 feet. These scatters will NOT count for deploy streaks, ZeeOps, or clan activity since they are passive deploys.
Badges
The badge for deploying a Jabberwock is shown below:
There are also badges for capturing a Jabberwock and a Vorpal Sword. Since there's only one badge each in these lines, we'll keep them a secret for now.
We hope you enjoy spotting these mad myths on the map!
Munzee on!
*Red-Colored Virtuals include:
Virtual Bittersweet
Virtual Red Orange
Virtual Scarlet
Virtual Red
Virtual Brick Red
Virtual Mahogany
**Black-Colored Virtuals include:
Virtual Timberwolf
Virtual Silver
Virtual Gray
Virtual Black