ZeeOps- Operation: Camp Out (July 2020)
Agents, we are happy to inform you that the mysterious transmissions we were receiving have successfully been decoded! However, the result didn't give us much to go on… Thankfully, we've also had success cleaning all of our files (as far as we are aware), so we now have the resources to dedicate a large-scale effort in investigating the transmissions. This month, we'll be sending you out on recon missions to gather some intel. Make sure to maintain your distance from others, even other agents, as the missions and your health may be compromised.
Depending on the Operation you choose, your requirements will be tailored to the environment you'll be staking out. Basic and Advanced Operations will be surveying laboratories, so they will require Greenie and Evolution activity. Mega Operations will be surveying weapons factories, so they will require Clan Weapon activity. Ultra Operations will be surveying incoming cargo ships, so they'll continue to require Fire and Ice activity, with some RUM activity as well. Like last month, we've placed the full mission details on pages that are only accessible with your agent login — the link is provided below.
July 2020 ZeeOps Operations are now live and you can begin planning your Missions to start on the following day. You will only have until July 31st at 23:59 MHQ to complete this month's Operations. All four Operation types are available for this month- the Basic Op (3 days), the Advanced Op (7 days), the Mega Op (10 days), and the Ultra Op (14 days)!
You can plan your Operations at munzee.com/ops/ and purchase more ZeeCred in the Freeze Tag Online Store. Remember that if you hit a snag at any point in your Operation you can use the Mission Mulligan feature to keep going!
By completing any Operation this month you'll earn the "Operation: Camp Out" badge.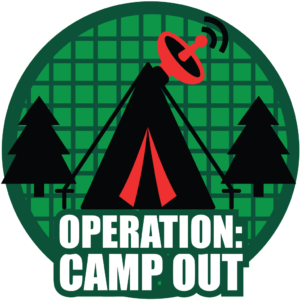 This month's Missions are found at https://www.munzee.com/ops/tasks
To start new Ops and view this month's rewards please visit https://www.munzee.com/ops/new
On behalf of MHQ, we thank you for your continued service.
This message will self destruct in 3… 2… 1…